what was I saying about Matt Shadetek being a badman ninja producer? Diplo just upped Mad Again, a new riddim by Matt, this version voiced by 77Klash and Johnny Osbourne! Dutty appetizers, dutty meal soon come.
& in case you haven't heard, Ghislain Poirier's got a LARGE new mix available, cooked up from his own ingredients, Bastard Bass. tracklist @ Pitchfork. Paul Thompson can only hear screaming. Track 5 features my Maghrebi bredren Abdelhak Rahal on violin, which I engineered & recorded back in BCN.
My Nettle project has evolved (myspace dormancy notwithstanding), but as a live band, Abdelhak has played with me from the beginning (UK deportation setback notwithstanding). At a basic level, I feel that music should aspire to be about the movement of ideas and sounds and people not only on the dancefloor (shake what yo' mama gave u) but also across borders; my gripe with remix culture of the '00s is that sounds flow but people holding certain passports remain blockaded and tied-up as ever.
e.g. as stuff like kuduro bubbles around the blogosphere largely uncoupled from author-attribution, it'd be nice for kuduro producers in Angola to get repped and actually play some of the, um, 'global ghettotech' parties, which involves paperwork and bureacratic globalization realness and a small but solid push towards freedom, at least for the artists at hand – for them to bring their sounds to us on their terms, artistically. It ain't easy yet it is sometimes possible… I'm saying this on a personal level, a passport level (read The Star Pit by Samuel R. Delaney, golden). While trying not to let geographic/political borders supercede all the microborders that penetrate you and I & inflect the social spaces we pulse through daily… Freedom & fish in a barrel & shooting. My own life: filled with walls.
The first track Abdel & I did was for Ghislain's beat on my album, and the new tune with Abdel (Exils, on Ghis's album No Ground Under) revisits and flips that moment. Due to Our Current Geopolitical Situation, it hasn't been possible for me to bring Nettle to the United States of America, but we just received word that will be resolved in 2009…
fans of gnaoua can listen back to yesterday's show.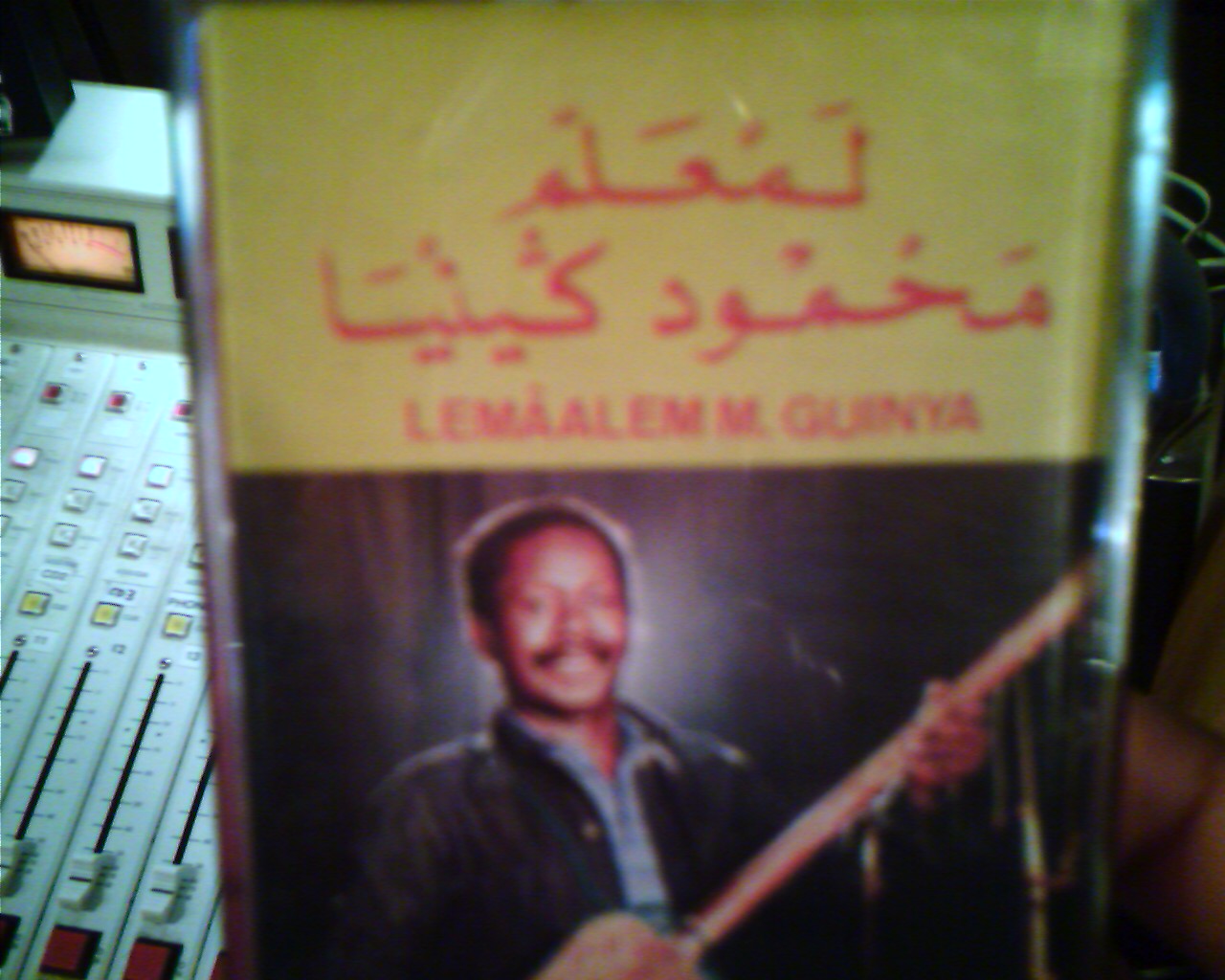 [Maalem Mahmoud Gania cassette at WFMU]
Grimey bassline top producer Dexplicit will be my special guest in 2 weeks — Dex is putting together an exclusive mix of his own material with lots of unreleased surprises for the show. He's making his US debut at the Trouble&Bass party, held inside the very-nice-sounding venue Love, which promises craziness.