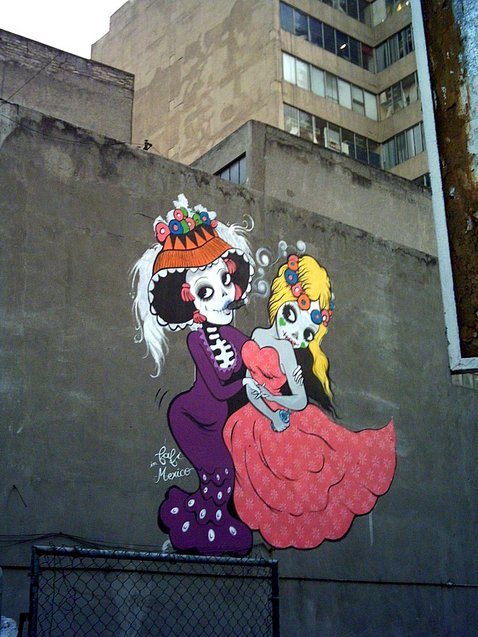 [Fafi en Mexico by Fafi]
Young deaths, accidental deaths are always the worst. The graffiti above is by artist Fafi, wife of DJ Mehdi, who passed away on Tuesday when, during a party for a friend, the roof of his Paris home collapsed.
Most people in the States know Mehdi from his electro/disco/house, his association with Ed Banger records, the Daft Punk / Justice upswing. But he began in France's hiphop scene, and that's where I first discovered him.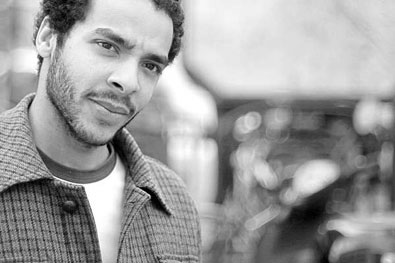 In DJ culture, certain songs exceed themselves, turn epic, turn anthem, crystallize a moment so well that whoever created the song becomes one to watch for – they enter in the conversation (often bypassing people who have been doing similar things — without the greater cultural resonance — for years). Because you can hear it, clearly, when music takes on zeitgeist weight, heavy with meaning.
"Tonton du Bled", produced by Mehdi for Paris rap crew 113 is one such song.
If, like me, when you first heard it you had no idea what they were saying beyond a few snatches of words — it was DJ Mehdi's beat that brought everything together, that made the whole articulation danceable and audible to us outside of the Afro- Arab- Francophone rap world. It's a big tune.
"Tonton du Bled" was released in 1999, one year after Rachid Taha's cover of Dahmane El Harrachi's "Ya Rayah" became such a hit. "Ya Rayah" is the classic Algerian song of exile, a poetic and bittersweet cautionary tale about leaving your homeland (you'll always want to come back), the restlessness of the traveler, the migrant worker (and the touring DJ). 113's lyrics narrate a French-Algerian taking the car-and-ferry back to the 'bled' for a few weeks — with none of the Taha/El Harrachi longing. On the contrary, they are smart and hilarious in their reproach — using French slang peppered with Arabic words to playfully discuss the trip to Algeria, referencing Playstations, darboukas, librarian-sexy raï superstar Zahouania, all while gently riffing on urban/country differences without falling into easy dichotomies, not a drop of nostalgia in sight. If "Ya Rayah" invokes the split identity of someone who can't shake longing for a distant home, 113 and Mehdi use hiphop swagger to express utter identitarian confidence – at ease in multiple languages, countries, Euro cities or African villages – empowered by the ability to travel (hiphop as portable homeland).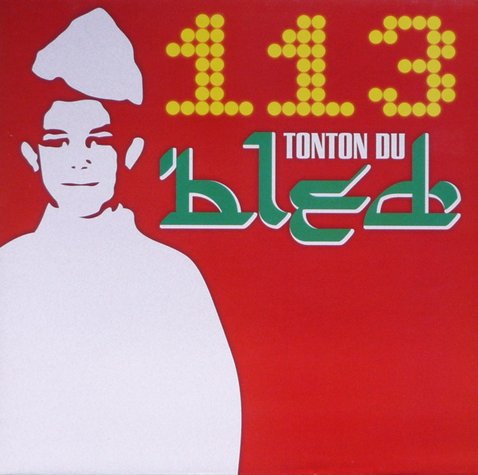 So the rap song offers a detailed reply to the raï one, and this black and brown intergenerational conversation is happening in France. It's a rare and vibrant moment of a call-and-response conversational topic stretching across musical scenes.
And it put Mehdi on my radar. We never met but I'd always wanted to ask him about the transition from making beats for major players in the French rap scene to getting international traction as an electro DJ. It's a fascinating move, probably a great way to think about changes in the French music scene over the past decade or so, too.
"Tonton du Bled" stayed in my crate for years. I actually became known for playing this track to Francophone audiences. An afterhours party on a Paris boat ended with the Moroccan manager giving me his copy of the 113 record it came on. The LP that was later destroyed when a drunk driver slammed into the tour van of Kid606 and myself outside of Santa Fe, New Mexico, smashing the rear windows and sending my record bag onto the highway. But in that crash we were blessed: apart from a little whiplash and my best 80 records completely destroyed, nobody was hurt. We walked out of a totaled tour van alive. It was a hit-and-run. Who knows what that driver has done since.
+ + +
Here's how I used "Tonton du Bled" in my 2004 mixtape, Bidoun Sessions, sliding in a spacious dancehall riddim underneath:
[audio:https://negrophonic.com/mp3/DJ Rupture – 113 – Tonton DuBled + Craig Thompson – H+K Riddim.mp3]
DJ Rupture – Bidoun Session excerpt
Less than a week ago Mehdi released a free mix called Tunisian Summer, saying "Last but not least, this mix is, quite humbly, dedicated to the people of my ancestors country, TUNISIA, for obvious reasons."
To close, here's a lovely Tunisian song (with a hiphop beat).
[audio:https://negrophonic.com/mp3/Aliah_Blaid_Raked-Alahamra.mp3]