France's Recmag just upped a video interview with Andy & I from our show in Feyzin. "Moment unique entre improvisation bruitiste et dancefloor tendance noise avec le guitariste des légendaires The Ex, Andy Moor et le producteur, maître du mix, DJ Rupture."
We produced another very limited-edition CD, Live in France, to sell on this recent tour. This one contains highlights from several France shows we did last March. A few copies remain.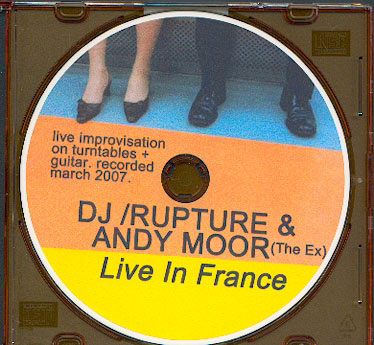 50 minutes long. Live improvisation for guitar+turntables. For a preview, check this youtube piece. Overall, the sounds are more beat-oriented than our first tour CD.
FYI, Live In France is a mass-produced, labeled CD-r in a slimline case, fruit of one of the many services offered by Chinatown's graymarket economy.
it's only available here (via PayPal) & at Ex shows. 'xclusive!
U.S. people – $7.50 which includes shipping
——————
rest of the world – $9.50 which includes shipping